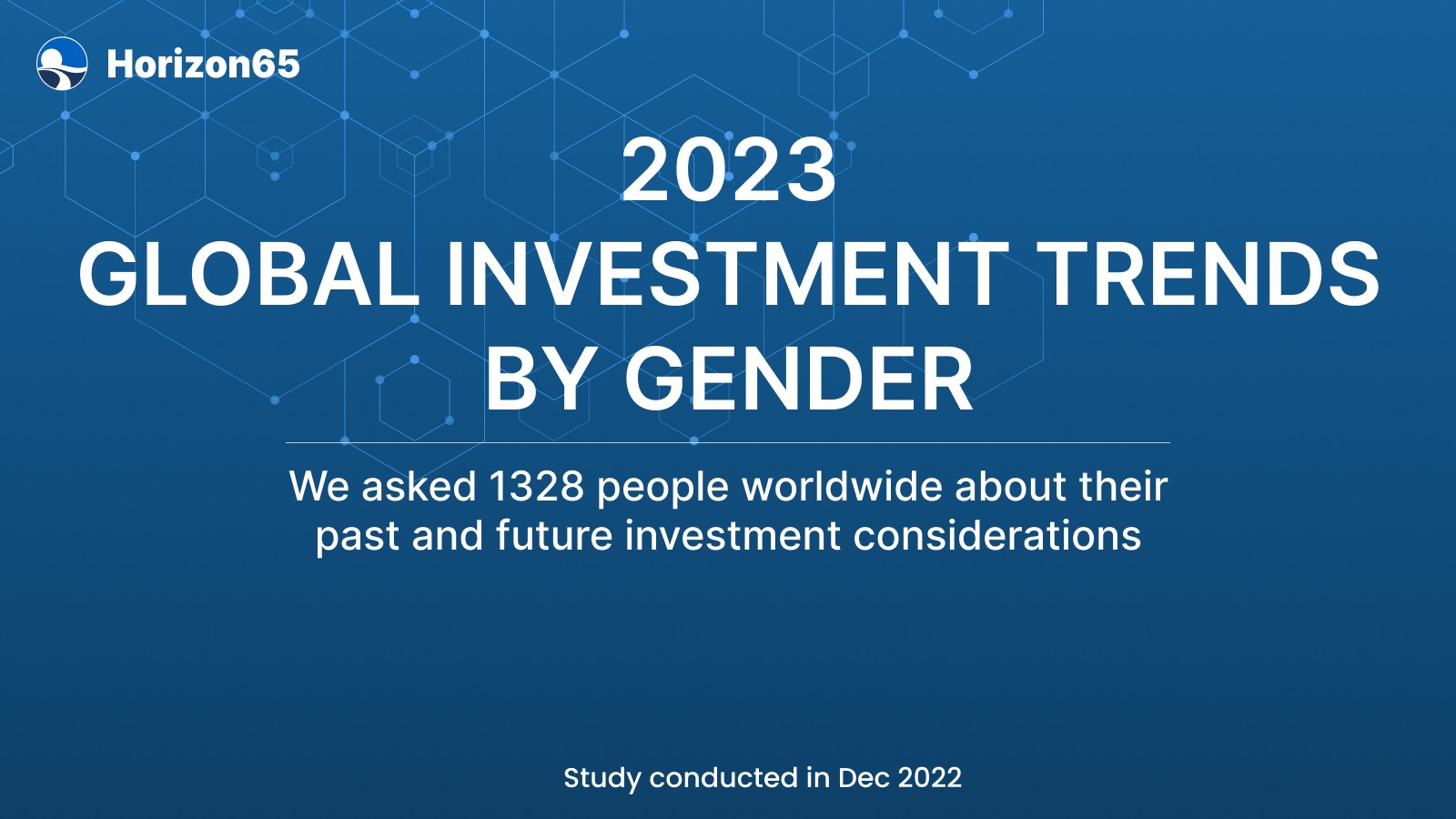 In December 2022 we asked people from all over the world about their current investment portfolio, their past investment portfolio and which asset classes they are considering to invest in and this yielded many interesting insights into the mind of today's retail investors. The study was conducted in a turbulent market environment with almost all asset classes having lost value in 2022.
Here are our top 3 findings:
1) Global home ownership declined by 7%
Making up this trend, the study notes that an average of nearly 10% of all homeowners worldwide sold their homes over the last 5 years, with nearly 3% of people worldwide buying their first home in the same time period.
We found that this trend isn't gender dependent. Homeownership in the last 5 years dropped from 18% to 10% for men, with the rate for women dropping from 23% to 16.5%.
We can only speculate as to the cause of this but presumably the increased mortgage rates and associated mortgage payments have forced many home owners to sell as well as interrupted the natural cycle of selling and then buying  a new home as housing is increasingly unaffordable.

2) A majority of retail investors still love stocks
A staggering 53% of retail investors are considering to buy stocks which means that retail investment demand for stocks is likely to recover quickly once the news around inflation and interest rates calms down.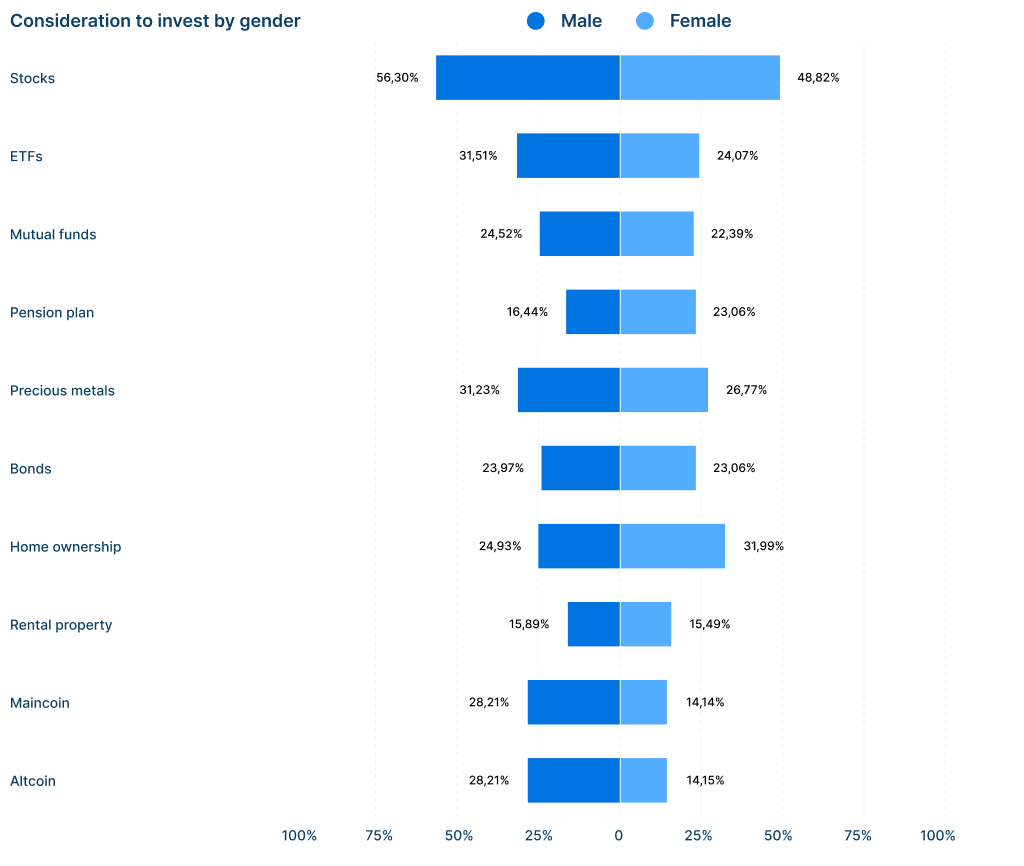 3) Majority of retail investors (51%) say they will never invest in Crypto
Among our respondents 51% of people say they will never invest in Crypto,  the highest rejection rate among any asset class but this sentiment is only for those who never invested in it.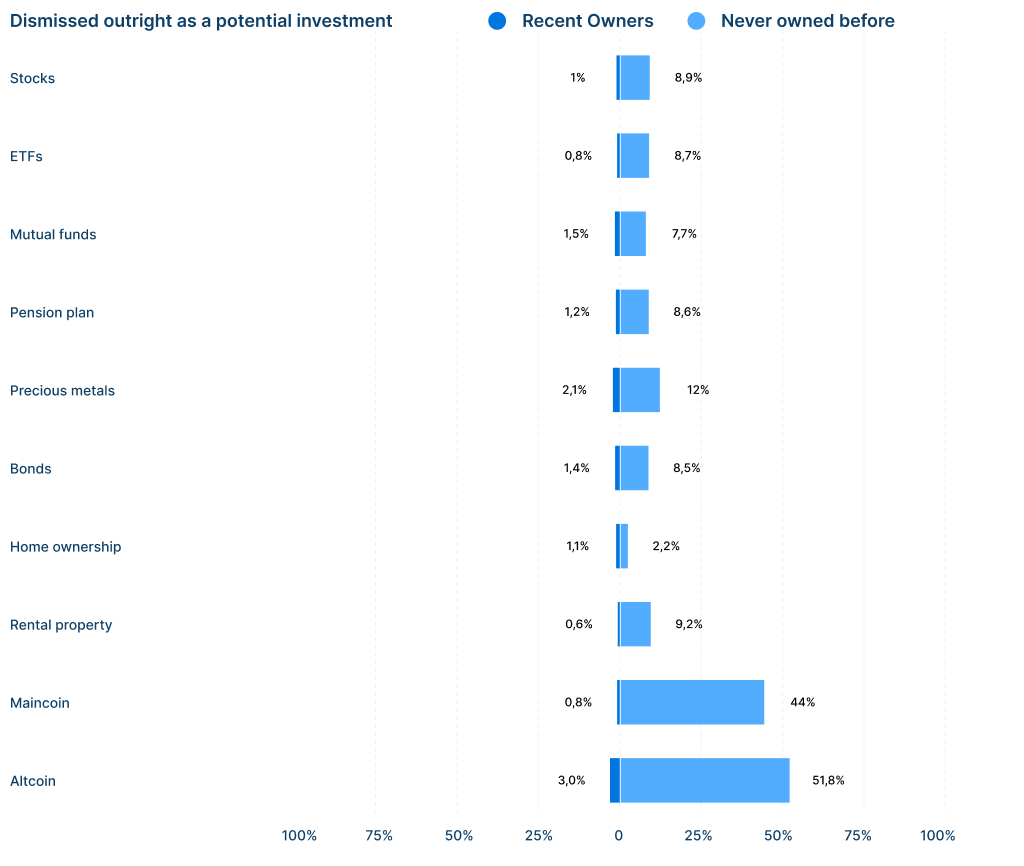 Overall, Crypto will face an uphill battle in expanding its investor base but that investor base was sufficient to support the past valuations so there is no reason to believe that crypto markets won't recover in 2023. Stock market investments remain much more popular overall though into 2023.
And much more…
There is more interesting data to be extracted from the study which you can find here:
Presentation: Deck – Global investment trends by gender
Complete study: Study – Global investment trends by gender
Methodology
The study was conducted on a randomly sample of 1328 respondents and conducted with Prolific and the results were processed in January. The respondents were from all over the world and are 45% female and 55% male between the ages of 18 and 55.
All participants were asked the same questions and the answers were always the same with the most common asset classes available to retail investors: Stocks, ETFs, Bonds, Mutual funds, Pension plans, Precious metals, Home ownership, Rental properties, Savings account, Crypto (BTC or ETH) and Crypto (Altcoins).
We asked the respondents the following questions:
Where have you saved or invested your money in the last 5 years?
What are you investing in right now?
What will you never invest in?
What investment do you want to make but cannot right now?
What would you invest in if the market situation gets worse?
What would you invest in if the market situation improved a lot?
The combination of those questions creates a solid base to answer questions such as
What is the typical investment portfolio in Europe?
Which assets suffer from buyers remorse
How many people are actually investing? (spoiler: 30% does not invest)
Just how much does culture impact womens' investment portfolios in the middle east (spoiler: bad)
…
The presented data is always normalized so that they are comparable.