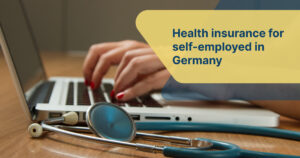 The fast majority of people in Germany have some kind of health insurance. It actually is mandatory and everyone has to choose between the state insurance or a private alternative. The health insurance for self-employed in Germany is not that different. They are confronted with the same decision as their fixed contract co-workers. However, there are a few problems, regulations but also opportunities that will have a tremendous influence on the viability of one way or the other.
A Health insurance for self-employed people has to take these effects into account and, as a result, will differ from the one that an employee would get. To help you with this problem, the following text will explain the fundamental principles of the German health insurance. The public-private divide. The consequences for the insured person. And the special situation, that surrounds the health insurance for self-employed in Germany.
We know that this is quite a critical subject. If combines the worries about someone's physical health and well-being with the equally important topic of financial costs and expenditures. Everyone wants to get the best possible medical treatments and a perfect coverage of all treatment costs, and we are willing and able to support you and your family. Should you still have questions after reading this article, please do not hesitate to contact us. While we tend to talk about pensions and investments, we also have experts that are specialists in health insurances and the surrounding fields. We all would be happy, to help with any problems you may encounter.
The health insurance in Germany
It is of great importance, that almost everyone in Germany is required to have a health insurance. No matter if you are working on a fixed contract, if you receive social security, if you do not work at all or if you are self-employed. You will have to get some form of health insurance.
As already mentioned, there are two different kinds of health insurance in Germany. The private health insurance is pretty much what you would guess from its name. You make an arrangement with and insurance company, to have coverage in case of a medical issue. How much you have to pay every month the exact services granted to you are, are subject to the terms of the contract.
However, most employees and even a big part of the self-employed use the public insurance or statutory health insurance (GKV). It is also often called a legal or state insurance, but such words are a bit misleading. Unlike other countries, like the UK with the NHS, there is not one single entity in Germany that secured the medical needs of all insured. Instead, there is a collection of special "Krankenkassen" that offer the public health insurance and are independent of each other. By this way, we have an element of competition in the system, that motivates all providers.
The public health insurance
About 87% of the population, that is about 70 million people, are insured in the statutory health insurance (GKV). Making it by far the more prevalent mode of insurance.
Who is insured?
In principle, all employees whose annual income does not exceed a certain amount (2022: 64,350 euros per year.) are compulsorily insured in the statutory health insurance scheme. In addition, several groups with special regulations also have access to this system. This includes freelance artists and journalists, students, and unemployed people.
Spouses and children are also covered free of charge as long as they have little or no income. There is a limit for children. However, it does not depend on their age. Instead, it looks whether the child is still going to school or is doing vocational training. Children who are unable to look after themselves because of a disability are permanently co-insured by their parents.
Services of the public health insurance
Everyone with statutory health insurance has the same entitlement to care if they fall ill – no matter the monthly payment into their insurance. While the amount of the contributions depends solely on your income, it has no effect on the coverage and the quality of the medical treatment. A big difference compared to the Germany pension system!
According to the "solidarity principle" of the GKV, high earners pay more than poor people, healthy people the same as sick people. In this way, all insured persons jointly bear the personal risk of loss of earnings and the costs of medical care in the event of illness.
The amount of the insurance contribution is initially the same for all statutory health insurance companies. It is 14.6% of your gross income – but only up to a certain salary level, the so-called "Beitragsbemessungsgrenze". Employers and insured persons each pay 7.3% of the 14.6%. A very important fact for self-employed, since they will be responsible for both amounts, with not employer to support them. In addition, every health insurance company can levy additional contributions from its insured if the membership fees and other funds are not sufficient to cover the costs. But usually, these extra contributions are rather minor.
Which health insurance do I choose?
You are free to choose which statutory health insurance company you would like to be insured with. In principle, all health insurance companies offer the same comprehensive catalog of compulsory medical services. However, some health insurance companies also cover additional costs, for example for travel vaccinations or participation in special rehabilitation and exercise programs. Others offer refunds of contributions or so-called bonus programs if, for example, you take part in a prevention course or have the recommended vaccinations carried out. All benefits provided by the health insurers that they are not legally obliged to provide are referred to as "statutory benefits".
Can I change health insurance?
Changing health insurance companies is possible at any time, with a notice period of two months. After the change, you usually have to stay with the new insurance company for at least 18 months before you can change again. However, if the health insurer increases its contributions over the course of the 18 months, you can terminate the contract prematurely by giving two months' notice.
What services does the insurer pay for, and what do I have to pay for myself?
Most of the services provided by statutory health insurance are prescribed system-wide and defined accordingly. The so-called service catalog of the health insurance companies includes treatment by family doctors and specialists or psychotherapists, in hospitals and under certain conditions also in rehabilitation facilities. These so-called standard benefits also include check-ups and early detection examinations, necessary vaccinations (no travel vaccinations) and medical care during pregnancy and around the birth.
Prescription drugs are paid for with a few exceptions. So-called remedies such as physiotherapy or speech therapy and medical aids such as prostheses or hearing aids are also paid for by the health insurance companies if they are medically justified and have been prescribed by a doctor. Aids must also be included in the so-called list of aids. A statutory co-payment must be paid for these services. For prescribed medicines, it is between five and ten euros, depending on the price. Children and young people up to the age of 18 are exempt from co-payments.
The private health insurance
Around 11% of people living in Germany are members of private health insurance (PKV). In order to be able to take out private insurance, certain requirements must be met. For example, your own gross salary must exceed a certain limit for a year. This limit is regularly adjusted, for 2022 it is EUR 64,350 gross per year. The self-employed can also take out private health insurance. If you do not want this, you can voluntarily insure yourself with a statutory health insurer.
Contributions and Services of the private health insurance
The amount of the insurance premiums in private health insurance is not based on income, but on age, health status and the desired benefits. This of course can be both a benefit and a disadvantage! When you are young and healthy, the payments will be very low, maybe even less than the ones for the public insurance. But with rising age and growing risk of illness and other ailments, the cost will go up. By the time you reach retirement age, the private insurance will almost certainly be the more expansive option.
However, you will also have access to better and more treatments. These benefits can include, for example, treatment by a chief physician, single rooms in the hospital and special medical, dental or rehabilitation treatments. The scope of the desired services depends on the chosen provider, the tariff and the stipulations of your contract. You usually have to pay for the costs of examinations, treatments and medication yourself. The invoice received is submitted to the insurance company, which then reimburses the costs.
To prevent too extreme payments or even the loss of coverage for people with financial troubles, all private health insurers have to offer a uniform basic tariff. A subsequent change to it is possible, as long as the customer matches the required conditions. The premium of the basic tariff must not be higher than the maximum rate of the statutory health insurance, while the services within the framework of the basic tariff must correspond to the compulsory services of the statutory health insurance.
The situation for self-employed
As self-employed, you can voluntarily join the statutory health insurance and pay the required contributions out of your own pocket. Or you can use the flexibility granted to self-employed and go directly into the private health insurance.
This only applies to self-employed people who were legally insured at the beginning of their self-employment and who have continued to be legally insured. Self-employed people who come from abroad can choose between statutory and private health insurance. Anyone who has opted for private health insurance can no longer switch to a statutory health insurance company.
So, the decision what to pick should not be underestimated. Especially because the consequences my only become apparent, long after you made your pick.
Cheapest health insurance for self-employed
Unlike employees, self-employed are not bound by the "Beitragsbemessungsgrenze". Therefore, they can choose between the two options. Yet the fact that they have to always pay the full contribution out of their own pocket makes the decision less clear-cut. The public insurance can easily cost 400 Euro per month, which is about the same amount a healthy young person has to put into a private insurance. As a result, the cost of the two types is very close. Making the public health insurance an altogether worse deal; you receive fewer services for the same price.
To change this situation, you will have to wait a few years and visit the problem again in old age. It must be stressed, that the increase in contributions for the private health insurance is a step. Many older people actually try to return into the public insurance if they realize this development. Something that is only possible until you reach the age limit of 55 years. After that, you have to stay in your insurance for the rest of your life.
It is up to you, to check the specific conditions of your contract and to choose if the improved service of a private insurance is worth it. Most providers will gladly provide you with estimates and prediction about the future development of your contributions, you should take advantage of this and really compare them to each other.
The Best health insurance for self-employed
Nominating the best is just as difficult as nominating the cheapest. You have to keep in mind that both kinds of insurance will serve their purpose. When you get sick, they will cover your medical bills. Neither of them will deny you a live saving treatment or prevent a recovery because of financial reasons. The additional benefits, offered by them, are supposed to make your healing process more comfortable and less inconvenient.
Private insurances usually offer far more in this regard, yet there are even some public insurances that try to outdo their competitors. Common offerings are the permission to select your own Doctor, having a single room in the hospital, access to alternative types of therapy or an extended coverage in case of dental problems. Since there is quite a variety of possible services, you will have to choose for yourself. There are no real differences between self-employed and employees in this regard.